The true cost of paper-based quality management systems is quite varied when you consider that using paper creates a vast ripple effect on companies. It extends all the way from how papers get filed to how a manager communicates with employees. What's problematic is some of these costs are possibly invisible until you fully understand the duties of your document manager.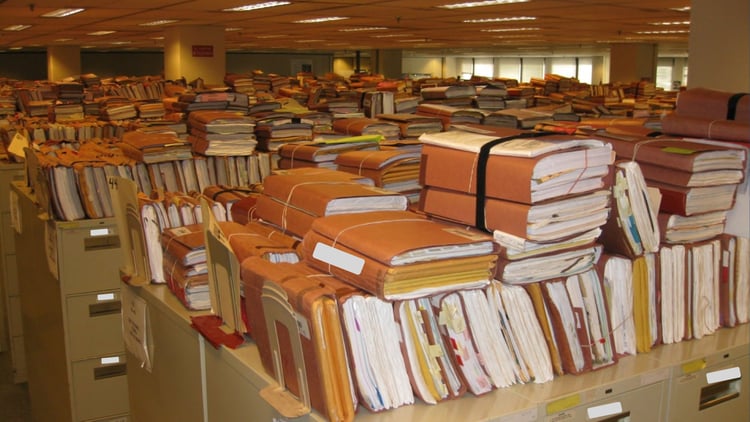 That's why it's important to always analyze your company and processes if you've used paper documents for years. You may discover certain procedures your managers and other employees use out of habit cost you more money and time than you realized.
Some of these above procedures are simple, yet take more time to do when compared to using digital solutions. With an electronic quality management system (or eQMS), you can finally make some of your costliest file management problems a thing of the past.
Take a look at procedures like file searching, sharing, and communication issues that you should correct to get your budget back on track in the coming year.
Locating Lost Documents
Your biggest problem using a paper-based management system is the threat of losing a good chunk of your company documents. The Paperless Project notes 7.5% of all documents in companies become completely lost. This might surprise you if you think you have complete accountability of all your files.
Yet, do you really know if you have valuable files readily available to stay compliant or to pass an audit? Only in emergency situations might you have to dig certain files out, to find they've turned up missing.
The cost of this alone could become staggering when you factor in the math for noncompliance. With hundreds (if not thousands) of documents to manage, the cost could reach six or seven figures if just 7% of those files are gone.
Finding and Retrieving Documents
Now that you know you may have more missing documents than you thought, what about the concept of file searching and retrieval? The Paperless Project mentions finding and retrieving paper documents takes at least 20% of an employee's time, another significant hidden cost to your business.
Place this in the context of a customer requesting information from a document. The time taken trying to find a document and having to retrieve it from a standard file cabinet can take away valuable work time.
Even if you have some kind of digital system where you've scanned a number of documents, it doesn't mean the document you need is there. If the document you want turns out lost, you only frustrate your clients or customers. In the case where the missing document turns out containing sensitive customer information, you could face legal repercussions and regulatory fines.
Using Old File Systems
The use of old file cabinets to store files may seem antiquated, though you may still use them for at least some of your files. Space is likely a growing problem as you acquire more and more files. More recently, you may have had to seek other storage sites to store all your paper files.
File cabinets alone can cost several hundred dollars to hold thousands of paper documents. With the cost of outside storage containing heating and moisture control costing as much or more than a file cabinet, you can see how much money ultimately gets spent.
Visit us at www.zenqms.com to find out more about our own eQMS software and how it ties together document management, training management, CAPA's, and audits.
To learn more about the cost of paper in your regulated environment, download our reference piece, "Paper Costs what?"