Access to the same validated, powerful tool we use
We believe that we're all better when we control quality together. That's why we're excited to announce the launch of our new import/export tool for our broader ZenQMS community. It's the same powerful, validated tool that our Customer Success and Development teams use for importing/exporting data around change control and issues. We've designed a user-friendly front end so that you can set your own pace and accelerate your process.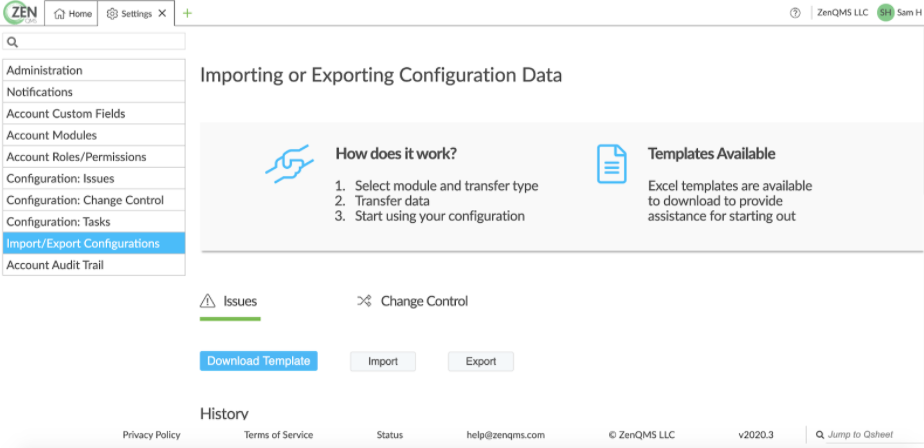 A sneak peek of the user experience that guides you through the import/export process.
Accelerate your configuration timeline
The new Import/Export tool will allow you to export your account's configurations from your Sandbox and import them directly into your production ZenQMS account in a matter of minutes. No need to contact the HelpDesk, you can do it all from the Settings tab in ZenQMS!
Easily experiment with your quality management system
We know you're constantly looking to improve your quality management system, while also ensuring that you're bringing your team on-board for any changes. The Import/Export tool will allow you to experiment with changes to your process and share with your team for review before rolling them out more broadly.
Let's say for example, you're looking to create a new Change Control process. You create a draft, review with your team in the Sandbox, iterate based on their feedback, and launch it into the production environment using the Import/Export tool.
Ready to get started? Here's a quick Q&A: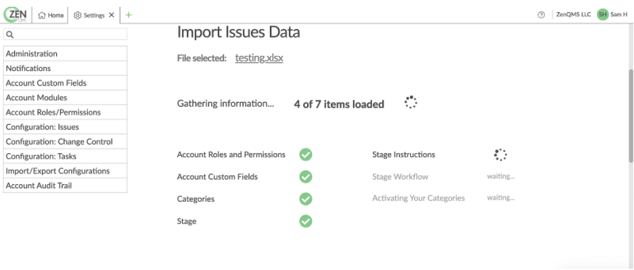 As you finalize your import, you can confirm each step with updates on where your import is in the process.
How does the Import/Export tool work?
The Import/Export tool compiles your change control and issues configurations into a .xlsx workbook and made available to you instantly. It also reads your .xlsx workbook and turns it into configuration data in ZenQMS. We chose the .xlsx format because it is easy to read, understand, and manipulate data outside of ZenQMS so you are always in control of your data.
How do I get access?
As with all updates and modules, as part of the ZenQMS community, you have access to any new features and enhancements as part of your ZenQMS yearly fee with no additional costs. Once launched as part of Q4 2020 release roadmap, you'll automatically see the Import/Export tool appear in the configuration menu if you are a Super User (if you aren't currently assigned this role, talk to your system administrator). If you're an administrator, you can grant additional access to this tool from the Account Roles/Permissions page.
Stay tuned for more coming soon!