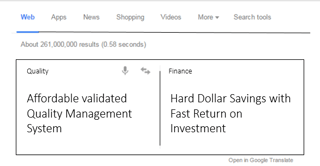 Essentially the translation involves first, identifying the unnecessary costs of the enterprise's current quality and compliance processes and second, demonstrating how to eliminate those costs by implementing a cloud-based eQMS system.
Identifying current process loopholes
To start the discussion, let us acknowledge that everyone connected with your enterprise works hard to manage quality and ensure compliance. The question for the CFO, then, is: are the processes in use sufficient to optimize cost savings?
Indications that there may be costly loopholes in your enterprise's current system include:
reliance on paper reports and files;
silos of electronic files on various computers in different departments;
signs of duplicative efforts, especially with respect to risk management and/or audits;
corporate governance systems that are not aligned with quality, risk management, and financial systems; or
quality, risk management, and financial systems that are not linked.
How should you approach CFOs about costs associated with these loopholes? Why not have the finance team attach a dollar figure to each adverse event in the most recent fiscal year which can be traced to one of the loopholes listed above?
Time and data lost to the reliance on paper reports and files.
Time and data lost to searching for electronic files, comparing data on siloed files, eliminating duplication on siloed files, and ensuring complete information is available once the right files are identified.
The costs associated with personnel changes and finding or updating paper files as well as siloed electronic files.
Time lost to deduping files.
Adverse events unrecorded, partially recorded, recorded in duplicate, or recorded late.
Audit reports that are: lost, incomplete, or duplicated.
Unaligned strategies between corporate and mid-management levels leading to overlooked compliance tasks, duplicated tasks, partially completed tasks.
Unexpected costs associated with too many adverse events, inefficient use of staff time, new compliance needs, or new risks.
Once quantified, these loophole-related costs are guaranteed to attract the attention of CFOs who then will be attentive to suggested solutions.
The next step is to offer a plan to eliminate those costs: an eQMS system.
Closing loopholes to reduce costs
Every executive—from CFOs to CEOs—is driven to optimize value. They look for ways to maximize savings and boost returns on investments they have decided will make sense for the enterprise.
Reducing costs associated with quality control and risk management means closing current loopholes in the system by pivoting to an investment in an eQMS program.
Paper files, spreadsheets, and older quality control processes may have been adequate in an era when regulations and risks were much more predictable, but times have changed—and the systems on which an enterprise relies to manage quality and risk need to be up to meeting today's new challenges.
Operating within a regulatory environment in which changes are the norm and a risk environment that turns life sciences enterprises towards continuous mine-evading tactics, CFOs are most likely to welcome an investment in an effective eQMS system that does three things:
enhances compliance,
reduces risk, and
comes as close as possible to eliminating adverse events.
An efficient eQMS system offers linked, transparent, aligned, unduplicated, and complete documentation and reporting for audits, risk management, adverse incidents, and compliance with minimum staff effort and maximum ROI.
The good news for CFOs
More cost-related advantages to an effective and efficient eQMS system include:
Adaptability to any size enterprise. CFOs need not fear paying for a system twice as big as they need.
No extra charges for access to the system by an unlimited number of staff. Say good-bye to seat licenses.
The right system coupled with strong tech support translates into little to no downtime, even for new users.
ZenQMS appreciates the concerns CFOs have and stands ready to assist by demonstrating the value of eQMS for your team. Let us know how we can help.