ZenQMS keeps your critical-to-quality activities running smoothly but there's a whole cast of characters behind the scenes who are here to support you on your quality journey. One of our core values is community, and this is an opportunity for you to get to know more about who makes up our Zen Team Community.

Each month, you'll get to learn more about one Zenner's story.
There's a strong possibility that you're already familiar with this month's Zenner, Emily Ruth.

As the Director of Customer Success, she spends a lot of her time helping clients get the most out of their software with as little stress as possible.

Read on to learn more about Emily and her journey to ZenQMS.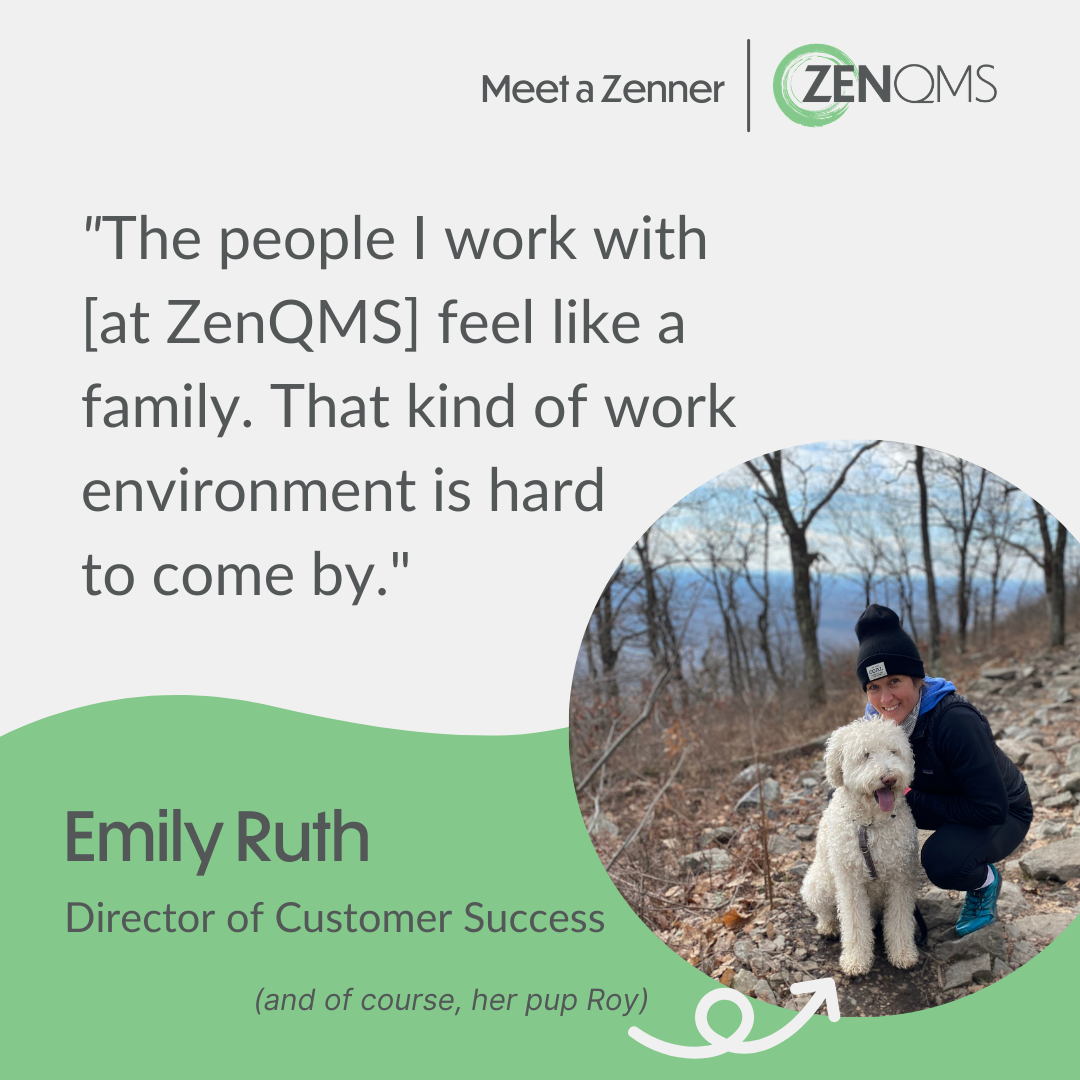 Tell us about yourself: how long have you been at Zen and what do you do here?
I am the Director of Customer Success, I have been with Zen for just about three years. As Director of Customer Success, I spend a lot of time with clients helping them get started implementing ZenQMS to supporting them on their quality journey.
What is your favorite part about being a Zenner?
The people I work with feel like family. That kind of work environment is hard to come by.
What was your dream job when you were a kid?
I wanted to be a lawyer, which is inconceivable now (lol) and I have no idea why that was the career of choice at the age of 8. My mom has proof in my 2nd grade "What do you want to be when you grow up" story.
What's the path that led you to ZenQMS?
It's a long story filled with cross-country moves and varied careers. College coaching, cooking, athletic training and eventually in the athletic software space to name a few. So the short version is I was looking to get out of the athletic software space, I interviewed with ZenQMS which was in a whole new and exciting industry, which was exactly what I was looking for!
Is there anything in your background, maybe previous job experiences or childhood experiences, that you feel have given you an advantage in your role here and allowed for you to bring some of your personality to the job?
I have always been an athlete, from youth leagues to college. Being on a team, you learn how to interact with all personalities, which I think directly applies to what I do at ZenQMS. Every customer is different, so having the ability to adapt to various needs and communication styles ensures success for everyone.
What's a movie universe you would love to live in?
The Whos from The Grinch! They're always happy and love being outside, something I can identify with.
How do you find Zen?
Trail running, skiing, hiking, or being on the water - basically, anything outside accompanied by my wife and dog 🙂
Stay tuned for new "Meet a Zenner" posts each month!