ZenQMS keeps your critical-to-quality activities running smoothly but there's a whole cast of characters behind the scenes who are here to support you on your quality journey. One of our core values is community, and this is an opportunity for you to get to know more about who makes up our Zen Team Community.

Each month, you'll get to learn more about one Zenner's story.
You might not be familiar with this month's featured Zenner, Mauricio Soares, but he's just as integral to your ZenQMS experience as any member of our front-facing teams such as Customer Success or Sales and Marketing. As part of the Development team, Mauricio works behind the scenes to make what you see on your screen both easy to navigate and engaging to look at.
Read on to learn more about Mauricio and his journey to ZenQMS.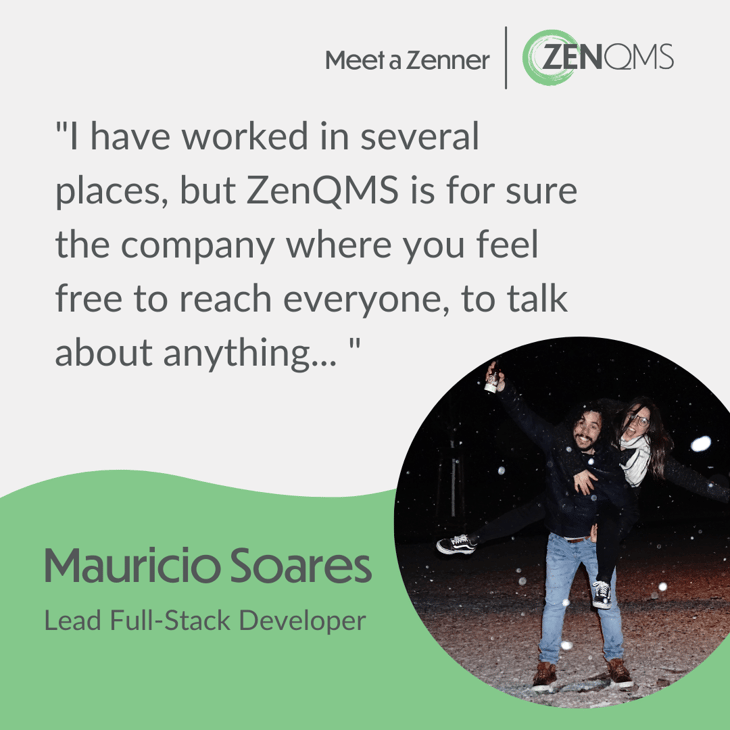 Tell us about yourself: how long have you been at Zen and what do you do here?
I've been at Zen for about 2 years now, and I'm a Lead Full Stack Developer, so I work a lot with code, but I also work a lot helping out other developers achieving their goals. And for the non techs, a Full Stack Developer means that I work with both the cool stuff you see on our interface, but also with the complex logistics happening under the hood of our services.
What is your favorite part about being a Zenner?
Definitely the people. I have worked in several places, but Zen is for sure the company where you feel free to reach everyone, to talk about anything... All folks at Zen are super friendly and welcoming, so if you need to reach someone, you can be sure that they will be super polite and helpful, always.
What was your dream job when you were a kid?
Oh, I always wanted to be a famous musician, like playing on stages for thousands of people and everyone singing my lyrics... That's what led me to learn how to play the guitar.
What's the path that led you to ZenQMS?
Like pretty much all the other places I've worked, I already knew one of the developers that works here at Zen, and they referred me. After that I had some conversations with Zen leads, and everything just worked out.
Is there anything in your background, maybe previous job experiences or childhood experiences, that you feel have given you an advantage in your role here and allowed for you to bring some of your personality to the job?
I have worked in the past as an instructor for children with special needs in a Brazilian institute called APAE. This was maybe 10 years ago, but I consider that to be one of my most valuable working experiences: it taught me how to be patient, how to handle every person in their own specific way, and how important it is to not overcomplicate things that should be simple. I'm 100% sure that this experience at APAE has taught me a lot of what I know in regards to how to work with people.
What's a movie universe you would love to live in?
The Wonders [from That Thing You Do] for sure! I mean I'd love to be the lucky drummer who got a chance to play with the band in a single show, and changed the course of their lives forever! (Sadly the band didn't last long, but they surely had a lot of fun.)
How do you find Zen?
There are 2 things I love doing that brings me Zen, one is watching a TV series with my lovely wife, even though I end up sleeping halfway through the episode, and she ends up watching like 4 full episodes, she always syncs me up with what happened and we go from there.
And you probably noticed that I'm really into music and playing the guitar, so yeah, I love to practice whenever I have some time... Just sitting on my couch, playing some stuff brings me a lot of peace.
Stay tuned for new "Meet a Zenner" posts each month!