If you're here, you know how hard it is to improve your processes. What method do you use? How do you employ a new method? In order to best serve your organization, you should know all the process improvement methodologies that can create or improve workflows within your organization.

This guide covers ten of the most popular process improvement methodologies and how to implement them. The ones you use will be dependent on your specific workflow or efficiency needs.
1. Six Sigma
Six Sigma helps organizations improve cycle-time by looking at internal processes to identify and minimize defects during production.

Six Sigma is most effective when you have someone in your organization who is fully trained and certified. However, certification can be costly and time-consuming, so Six Sigma isn't the best method for small changes.

Consider employing Six Sigma if your organization is ready to make major changes to your workflow processes or implement new ones. There are two different methods you can use: DMAIC and DMADV.

DMAIC is meant for organizations that are improving an existing process, while DMADV is for implementing a brand new process.

Here's how the DMAIC method works:
Define the problem within the business process and your project goals
Measure all the aspects of the current workflow (i.e. lead time, inventory levels, etc.)
Analyze your findings from the Measure stage to find the root defects in a process
Improve the process in a way that eliminates the defects
Control the process by implementing company-wide changes
An environmental services company used DMAIC to reduce the downtime of their internal software system and reduce the time it takes to fix issues when there is downtime.

Using Six Sigma, they defined the problem—potential glitches in the software—as well as the time required to fix them. They measured the detail in the current workflow by analyzing the internal process for reporting the glitches and determined the areas where improvements could be made.

With their new process, they decreased the chances of a glitch in the software and also reduced the overall time required to fix it.

Here's how the DMADV method works:
Define the project goals
Measure critical components of the process and the product capabilities
Analyze findings and develop various designs for the process, eventually picking the best one
Design and test details of the process
Verify the design by running simulations and a pilot program, and then start utilizing the process
Instead of improving a current process, this method aims to implement a brand new one. For example, if a company wants to create a system for reporting defects, but they've never done it before, the DMADV method is an appropriate choice.

Where to learn more: Six Sigma training
2. Lean Manufacturing
Lean manufacturing aims to minimize waste of time, materials, and energy without causing unplanned downtime or sacrificing productivity during the manufacturing process.

Lean manufacturing is best used for small-batch production process improvement because it has a low margin for error. The process for lean manufacturing is so streamlined, it leaves little-to-no room for mistakes and defects.

Within lean manufacturing, you'll identify eight different types of waste so that you can create a goal to minimize those that occur within your organization.

Here are the eight types of waste in lean manufacturing:
Defects
Overproduction
Waiting
Non-utilized talent
Transportation
Inventory
Motion
Extra-processing
The first letter of each spells out DOWNTIME because by identifying and eliminating these wastes, you'll reduce the chances of unplanned downtime during production.

Consider adopting lean manufacturing when you have too much extra inventory or waste at the end of your production process. As an example, in healthcare, lean manufacturing can be used to minimize the volume of wasted materials during the production of a medical device.

How to employ: Identify all the types of waste that your company needs to reduce. Then adopt the 5S principles: Sort, Set in Order, Shine, Standardize, and Sustain.
Sort: Eliminate whatever is not needed by separating needed tools, parts, and instructions from unneeded materials.
Set in Order: Organize whatever remains by neatly arranging and identifying parts and tools for ease of use.
Shine: Clean the work area by conducting a cleanup campaign.
Standardize: Schedule regular cleaning and maintenance by conducting

the first three principles daily

.
Sustain: Make 5S a way of life by forming the habit of always following the first four S's.
3. Lean Six Sigma
Lean Six Sigma takes proven tactics from both Six Sigma and lean manufacturing. The goal is to increase performance and decrease process variation within your workflows.

Where Six Sigma focuses on reducing variations and increasing control of internal processes, lean Six Sigma is a data-driven philosophy that "values defect prevention, over defect detection."

Bottlenecks in your workflow can make it more difficult to use lean Six Sigma to improve your processes. Bottlenecks occur when one part of the workflow has fewer resources or capacity than it needs, creating stoppages. You can reduce the potential of a bottleneck by identifying the areas where one could occur and addressing the challenges.

You can start employing lean Six Sigma by defining your problem and quantifying it. In healthcare, for example, a potential problem that needs to be defined is excess defects within the production process. Quantify this by mapping the process in its current state and then in the desired state (a state that minimizes the chances of a defect occurring). Some problems that other organizations have solved using lean Six Sigma have to do with lead time or the quality of a product.

Where to learn more: Lean Six Sigma training
4. Total Quality Management (TQM)
Total Quality Management is an ongoing, company-wide process that aims to improve product quality and implement successful long-term processes. The primary benefit of using TQM is that it creates better products at a lower cost by continuously improving internal processes to reduce errors.

The biggest challenge in adopting TQM is getting a company-wide buy-in because it relies on every department being involved. Any lack of effort or resources from the necessary departments will hinder your progress in improving processes.

You should only use TQM if you understand that the customer ultimately determines the level of quality of your products. For example, a healthcare provider used TQM to reduce customer turnover by identifying gaps in customer satisfaction and addressing those gaps. Once identified, they created a plan to improve customer service by reducing lobby wait times and increasing customer communication.

Start utilizing TQM by identifying your customer demands and mapping the processes you use to meet their needs. Address any areas in the processes that could result in poor customer satisfaction and develop an internal plan to reduce the probability of those things happening.

Where to learn more: Implementing TQM
5. Theory of Constraints
When you use the Theory of Constraints methodology, you start by identifying the single weakest link within your entire production process and prioritize improving only that weak link.

There are quite a few challenges in implementing ToC into your workflows. For example, it can be hard to narrow it down to one overarching constraint. On the other hand, some constraints, like not getting materials on time due to shipping delays, are outside of an organization's control.

Consider these potential challenges when you are figuring out which methodologies to employ. You should use ToC when you already have a limiting factor or constraint that needs improvement.

To employ the Theory of Constraints, start by identifying your largest overarching constraint. Then determine the best ways to exploit that constraint. For example, if your business wants to reduce lead times, start by exploiting the areas that can affect your lead times.

Where to learn more: About Theory of Constraints
6. Kaizen
Directly translated, Kaizen means "change for the better." The idea behind Kaizen is to provide continuous improvement to processes within an organization by reviewing issues within current processes. With the Kaizen method, you can break down departmental barriers to focus on the customer.

The biggest challenge of implementing Kaizen is when your company already has an existing system for production processes. This is because once Kaizen has been established, it is very difficult to change to a different system. The need for company-wide participation and Kaizen-specific training makes it hard to change to a different system once it's been implemented.

The best use case for this process improvement methodology is with a brand new business that doesn't have an established management system in place.

Start by implementing small changes. The goal is to make small changes every day that lead to continuous improvement. Buy-in from all departments is important, especially those that deal with processes and workflows.

Where to learn more: Kaizen Institute training
7. SIPOC Analysis
SIPOC Analysis is a tool that maps out your production process in table form. It stands for Suppliers, Inputs, Process, Outputs, and Customers. However, it does not provide you with a detailed analysis of each step. SIPOC analyses are compatible with Six Sigma, so once you complete your analysis, you can use Six Sigma to begin making improvements.

Here is an example of how a company would structure its SIPOC Analysis.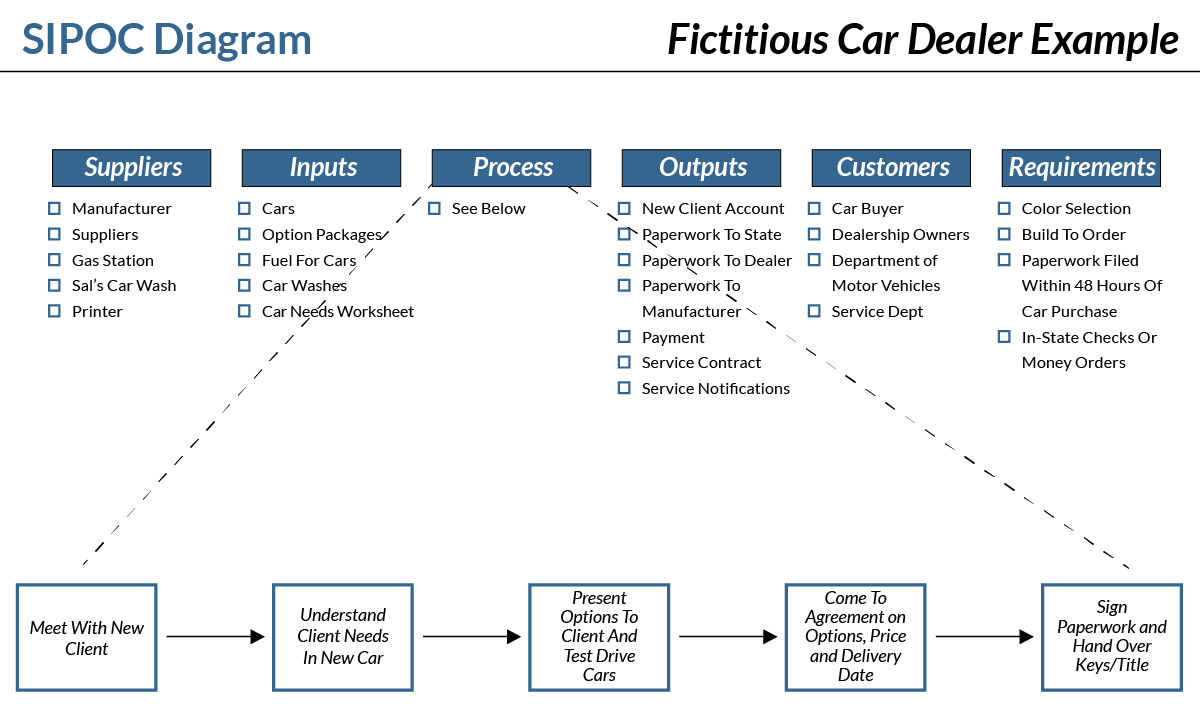 Source: iSixSigma

SIPOC is useful when a process needs redefining—when you need a high-level overview of your processes in order to start making changes. A SIPOC analysis is a good starting point for process mapping.

Start by creating a chart that lists all of your suppliers, inputs, processes, outputs, and customers. This provides a company with an overall view of the production process so you can address any boundaries or challenges within the process.

Where to learn more: SIPOC analysis explanation and example
8. Business Process Management (BPM)
BPM is a process improvement method that focuses more on the outcomes than the process. To successfully employ BPM, you need to be able to continuously evaluate your internal processes and make improvements as necessary. Use a BPM software system to integrate with your processes or develop your own.

It's important to take into consideration the costs involved to adopt because you need to hire someone who specializes in BPM to use your BPM software. Additionally, there is also not a lot of room for flexibility and innovation within the BPM approach.

Consider using BPM when you want to untangle current complicated processes and gain control over them. For example, Procter & Gamble adopted BPM to untangle two of their current processes: managing their raw materials and registering their finished products with the correct entities. They were able to gain control of those processes and improve them by using tools within their BPM system.

Start by hiring a business analyst who specializes in BPM, either internally or externally. You need an analyst to identify each process your business uses and then analyze and manage the changes in those processes.

Where to learn more: BPM Lifecycle Guide
9. Just in Time (JIT)
The overall goal with JIT is to save time and costs while avoiding excess inventory. Using JIT allows you to meet the demand for a product and minimize storage and warehouse costs while doing so.

One important consideration of JIT is that there is not a lot of room for error during production. You should also know that there is a high learning curve. In order to fully adopt JIT, management must rethink the entire workflow of the company, which can be a complicated process.

The JIT method is useful when you have too much inventory in your warehouse. But to use this method, you must be able to accurately predict how much inventory you will need using inventory forecasting. Inventory forecasting can be calculated using these three metrics.

Lead time demand = average lead time in days x average daily sales
Reorder Point (ROP) = (average daily sales x lead time) + safety stock
Safety stock = (maximum daily sales x maximum lead time in days) – (average daily sales x average lead time in days)

The type of inventory forecasting that your organization uses depends on your needs. For example, if you need to know the reorder point in order to minimize storage and warehouse costs, use the ROP formula to accurately predict your inventory needs.

Analyzing vendor relations is a good place to start because you need to have strong relationships with your vendors in order for JIT to work for your company.

Where to learn more: How to Implement a JIT Inventory System
10. Poka-Yoke
According to Backlog, Poka-Yoke "acknowledges the inevitability of human error and gives people a framework for minimizing mistakes." It puts a system in place that alerts you to defects and can be implemented virtually anywhere. The system is put in place by reviewing each step of an internal process that needs improvement.

The biggest challenge that companies run into when adopting Poka-Yoke is inefficiency when it's employed incorrectly. To ensure that it's employed correctly, you should hire or pinpoint trained employees to implement and maintain the new system.

Use Poka-Yoke when you need to reduce the number of defects in your current production process. This method is used a lot in healthcare, where it is extremely important to avoid making mistakes.

For example, say a healthcare manufacturing company that produces wheelchairs uses Poka-Yoke as their method to review for human errors in the wheelchair production process and to ensure the chair is completely safe for customers to use. They do this by reviewing any possibilities for human error in the production process and implementing a solution to minimize mistakes.

To employ Poka-Yoke, create a detailed flowchart that shows who performs each step of any given process. Then identify the areas where a mistake could occur.

Where to learn more: Poka-Yoke Example
You Don't Have to Choose Only One
These ten process improvement methodologies can provide your organization with improvements to workflow, efficiency, and waste management. And the best part is that you don't have to choose just one!

Start by narrowing down our list of the ten most popular methods to choose the ones that could work for your organization. Consider the advantages, disadvantages, and intended outcomes for each approach to assess how they can improve your workflows.