This interview is part of our Quality Journey Series. Learn about the various paths and passions that led quality professionals to where they are today, what they learned along the way, and the future of quality. Do you know a Quality Leader that should be featured? Nominate them here.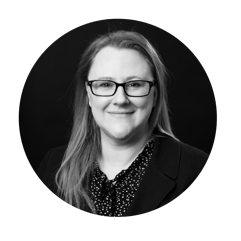 An early, if slightly unusual, signpost to Kirsten Peterson's future in quality and r
egulatory compliance occurred when she was working in retail. Her keen o
bservational skills were noted by a law enforcement official, who called the store two days later to encourage Kirsten to take the detective test. Instead, Kirsten opted to pursue a BFA (and then a Master of Arts in Art Th
eory and Masters in Library and Information Science). However, her detective instinct would remain a thread throughout her career, continuing with her current role at TraceLink. We reached out to learn more about her journey.
Quality is about building trust, and it starts with our teams.
Our Zoom call kicked off with a conversation about Kirsten's background— the literal Zoom background—before diving into more about her experience. It was a screenshot of her colleagues at TraceLink during a virtual event for International Women's Day. The gathering was designed by an employee-led diversity, equity, and inclusion initiative that Kirsten helped build.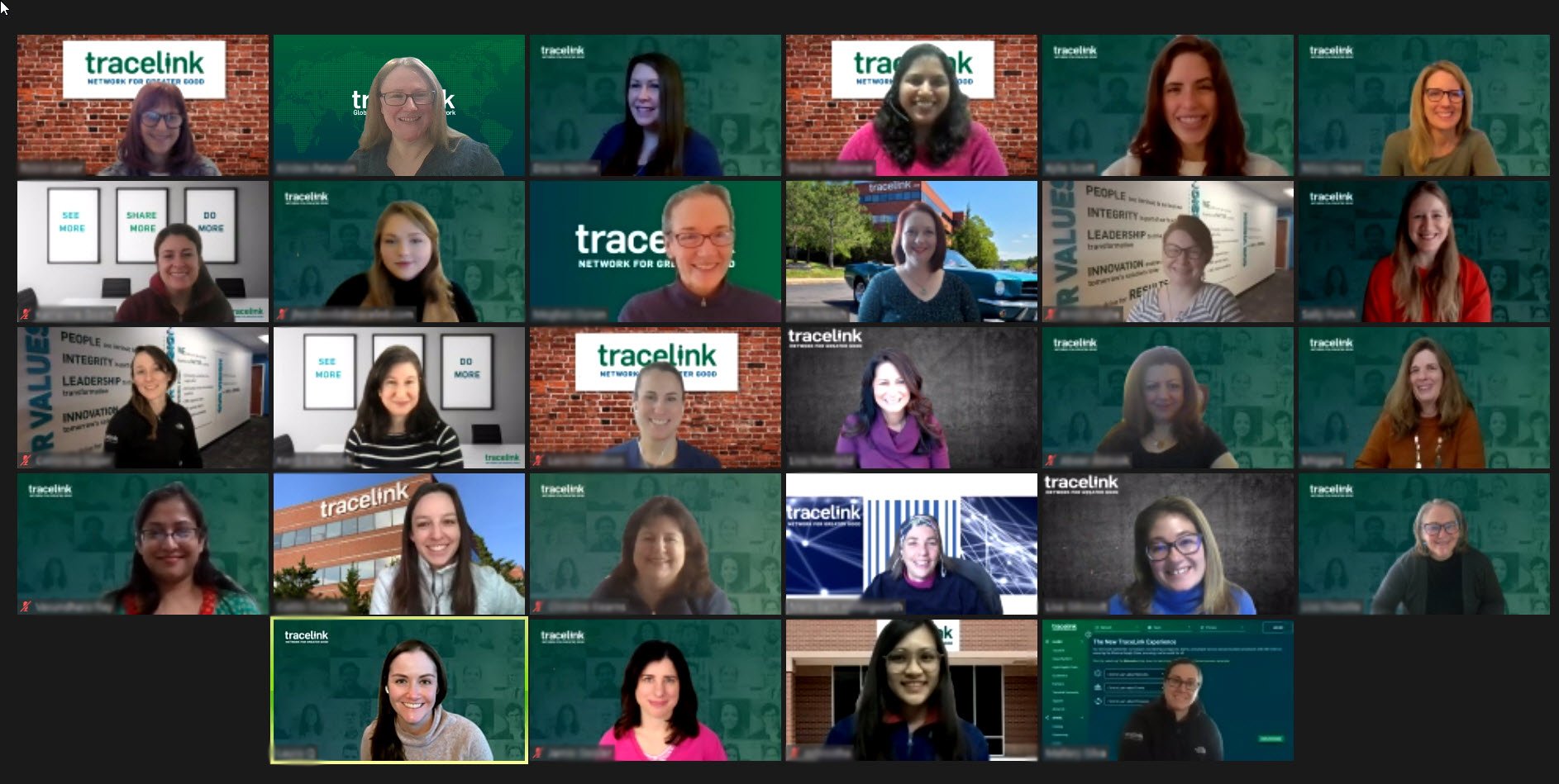 Kirsten's background, a screenshot from the International Women's Day event at TraceLink.
When she recognized that team members across departments were having similar conversations about diversity, equity, and inclusion, Kirsten reached out to see if there would be interest in having broader conversations and initiatives. She approached two Leaders and seven peers at TraceLink about the idea. Together they organized an employee resource group with the mission of embodying "Network for Greater Good," advancing Diversity, Inclusion, Belonging, and Equity awareness, events, mentorship, and outreach opportunities.
This work for Kirsten was not something she did in addition to her quality responsibilities. She underscored that quality should be integral to every part of the organization and a champion of cultural change for diversity, equity, and inclusion. "Quality is inherently about trust. We want to ensure that patients can trust us, our processes, and our product—and that starts with a culture of trust within our teams and with one another."
To be a process designer, you first need to "get yourself invited to meetings."
Like any department in an organization, the quality team is at risk of being siloed. Throughout her quality journey, Kirsten worked to ensure that the quality team is part of the organization's fabric. For quality teams to become resource connectors and process designers, they need to be up-to-date on inputs, outputs, and dependencies.
For Kirsten, that starts with framing your role as a resource and proactively engaging in conversations across the organization, even if at first it means "getting yourself invited to the meeting." Part of her practice is regular and spontaneous quality check-ins to keep communication channels open: "It's difficult to solve a problem if you can't cross-functionally speak with your peers or other teams and ask, 'What are you doing, are your inputs affecting the output of another team? Is there a gap and something that we could be documenting that helps this other team?'"
Kirsten learned the organizational and economic value of quality's participation at each level while working at Stryker supporting medical device products in a Quality Management System role. Medical device commercialization teams include marketing, regulatory, and quality from the beginning. She observed how big of an impact that can have: "Silos have to be broken down in order for a company to realize that you can shave off years in every commercialization process just by talking to each other and bringing Regulatory and Quality experts in early."
Tracing the in-between allows you to scale knowledge —whether it's via card catalogs or root cause analysis.
Collaborating across teams and sourcing knowledge has always been a central tenet of Kirsten's work, regardless of the context.
"Research, synthesis of seemingly disparate pieces of information, and making information (whether it is art programming or quality processes) accessible is really what shaped my education and career path…digging through archives, reviewing microfiche, flipping through card catalogs, perusing pages of thick portfolios were all activities I loved."
Her curiosity and penchant for uncovering trails of data led her to pursue Art History with a focus on "provenance research, art collecting theories, and 'Degenerate Art' of WWII under the tyranny of National Socialism." She then pursued a library and information science degree. She stewarded both collections and operational processes, including managing vendors, writing staff library processes, and training staff to use eResources for research.
The path to quality for Kirsten was a serendipitous one. During a dinner with her college roommate and that woman's husband, the conversation turned a work challenge he had with their customer service team at the medical device company he worked at. "I offered a solution, and he exclaimed, 'You're hired.' I thought he was joking, but then I was shortly onboarded to the team."
Kirsten jumped in with both feet and immersed herself in all operational aspects of the business. Eventually, she was brought onto "pivotal projects as we sought ISO 9001 certification, CE mark, launched new products into the Veterinary space, performed Mergers and Acquisitions globally, joined Sales meetings and demonstrations with government entities, and submitted various documentation to the FDA." It was then she knew she was "hooked" and would continue to her journey in quality.
Now, in her role as Senior Manager of Regulatory and Quality Compliance at TraceLink, Kirsten applies her analytical, detective mindset to shaping and scaling Quality Management System processes such as procedure writing, process improvement, auditing, gap analysis, or risk assessment: "…I always want to make sure we illustrate and document the inputs and outputs, align our work with company goals and objectives, and trace the in between so we are consistent with repeatable and reliable processes and products. "
The Future of Quality is Participatory
As an advocate for quality's role for weaving together the various roles and functions of an organization, it's perhaps not surprising that what Kirsten is excited for in the future of quality is a more deeply interwoven partnership model:
"From regulatory agencies to organizational teams, you really start to find that everyone is a partner, and everyone is an important player with a unique perspective to be heard. It's not just about the push model or a trickle-down reaction, but more proactive collective efforts to meet in the middle."
She noted that this approach has really been amplified by the collaborative efforts during COVID-19 and with changes coming for Computer Software Assurance that reduce time market: "we've all seen the FDA and the government, and heads of pharma and their supply chain working together to ensure patients get what they need and when they need it. "
Examples like these that illustrate how we can successfully build together for the common good have Kirsten counting on a bold, participatory future for quality.
Realizing it, however, means that "you have to put yourself out in front to advance or encourage change...never be afraid to put an idea out there because you never know what it is going to spark."