We were delighted to have Gene Lichtman host our January Quality Leaders Forum on "Taking control of your Tech Stack" for emerging Life Science companies.

Here are four key takeaways: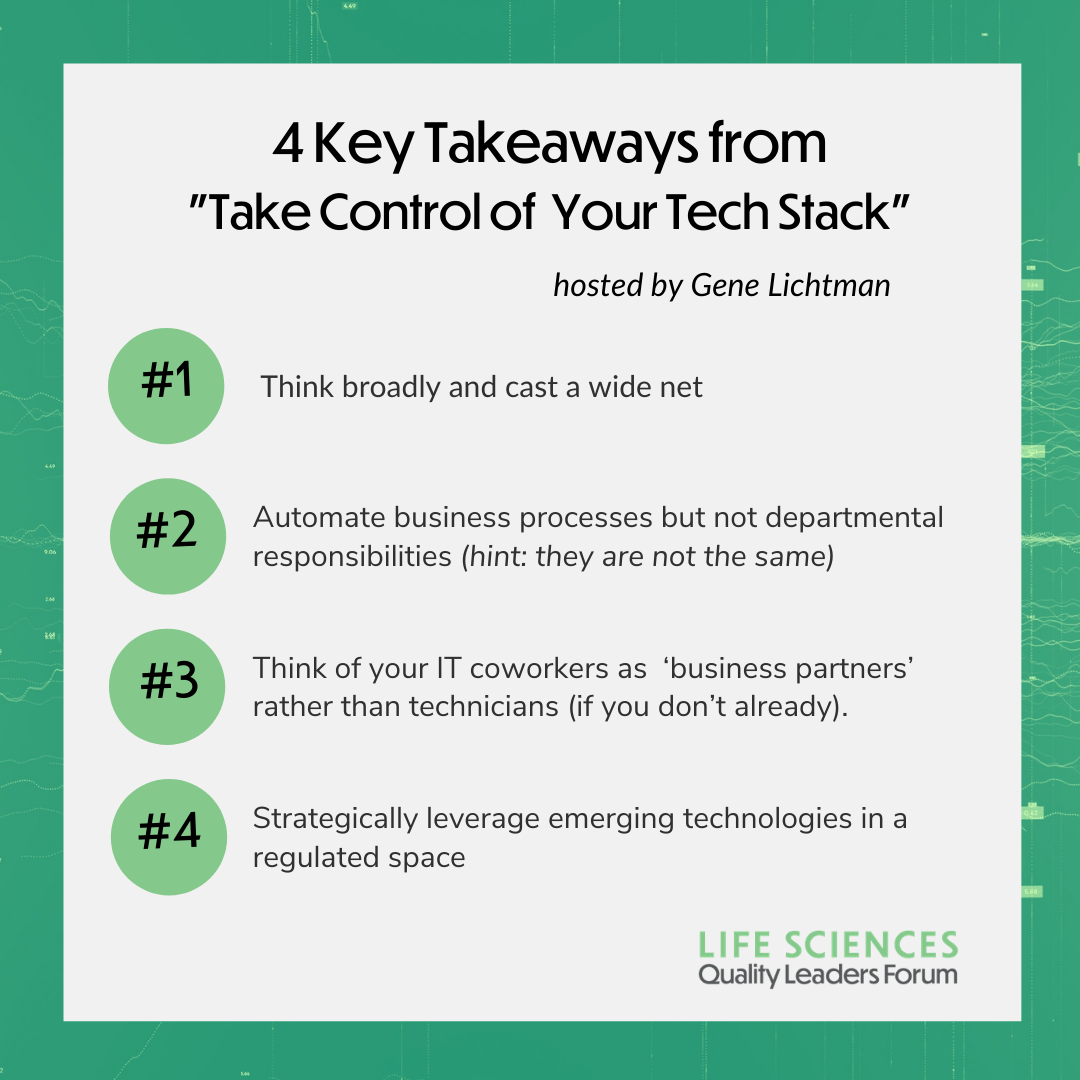 Think broadly and cast a wide net
To build an accurate representation of your enterprise technology and information assets, think broadly. Engage the whole organization to identify stakeholders. Challenge participants to think beyond their own departmental needs. Capture all systems, data and processes, whether on premise or hosted, automated or manual. Be sure to note important attributes like underperforming systems, sensitive data with regulatory requirements, systems and processes lacking control and opportunities to improve or integrate. Capture key triggering events in the coming year that represent inflection points in systems, data and business processes. Share the resulting enterprise architecture with all stakeholders to facilitate a sense of teamwork, cooperation and shared ownership.
Automate business processes but not departmental responsibilities (hint: they are not the same)
The enterprise itself is dynamic and evolving, comprised of different layers including:
Organization

Business Requirements and Process

Systems

Data

Technology
These are related but independent. They each shrink, grow, transform at different rates and are triggered by different events, opportunities, needs or constraints. An example - as IT professionals, we often get our marching orders from leaders, looking to automate their departments responsibilities. John Zachman, who originated the Zachman Framework, explains that we should automate the business process and not the organizational responsibilities. As enterprises mature, departments and their responsibilities evolve. Applying this perspective, insulates your automation from organizational changes.
Think of your IT coworkers as 'business partners' rather than technicians (if you don't already).
As technology leaves the onsite premises and moves to the cloud our responsibilities and skill set must evolve. We've entered a world where implementation and operation of technology is a shared responsibility, often with the technical tasks left with the service provider. This presents IT groups with the opportunity to evolve from technicians to business partners.It remains our responsibility to ensure:
Solutions deliver business value

Key Performance Indicators and ability to respond quickly to changing needs

Service, support and availability expectations are met
Compliance with relevant regulatory requirements are met

Supplier management and vendor qualification activities

Opportunities for integrations and reuse of solutions are identified
Strategically leverage emerging technologies in a regulated space
As an industry, we aim to find effective and safe therapeutics and get them to market cheaper and faster. Hosted technology solutions can be up and running in days, sometimes with bug fixes and new features added on a daily, weekly or monthly basis.
The promise of artificial intelligence seems to finally have come to fruition with real products employing natural language processing and machine learning.
How do we leverage these capabilities within a compliance framework and set of practices that were developed decades ago? Much of computer system validation is about carefully tracing system functions to business requirements and ensuring consistent results. At its core, validation is about meticulous documentation, testing and demonstrating repeatability. How do we balance this with the rapid and agile practices of SAAS providers and the self training algorithms of machine learning?
We are challenged with modernizing compliance practices to enable us to leverage these emerging capabilities in a way that preserves patient safety. We need to work together, industry, regulators, academics and thought leaders to make this happen.
Read Gene Lichtman's primer "IT is on autopilot, and it's time to take the wheel."