Trouble with your Training Matrix?
Most companies face trouble with their training matrix because employees are unable to track the individual SOPs they need to follow, management is unable to interactively train employees, and the entire system tends to get lost in the mix. This is often caused because Excel or limited database-managed systems have over 100,000 entries. These entries are difficult to search and track and cost users time and energy just to guarantee that they have fulfilled training requirements on relevant SOPs.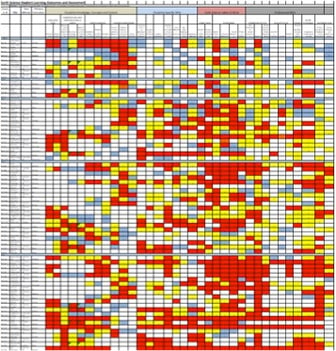 Training Requirements
Employees need to be able to manage their own training requirements and SOP preparedness. A good training matrix management system enables self-control among employees so that they may intuitively track and plan their SOP training. Rather than creating confusion through multiple layers of management necessary to just understand the matrix management system, great training matrices give a streamlined process so that management may focus on employee relationships, not database management.
Excel Spreadsheet Management
Managing training and SOP databases with Excel or other spreadsheet management systems cause significant problems. Great database tools include more than just a spreadsheet, they include search functionality, archiving processes, and management according to employee, product, operating procedures, and location. Databases relate the entire 100,000 plus entries foryour SOPs to specific employees, processes, and specific locations through the use of queries. Individual spreadsheets, on the other hand, only provide relationships throughmanual activities.
Employee Management
With a Quality Management System for your training matrix, employees will be given the tools to manage their individual information and operating procedures. Giving employees the tools to properly manage their own entries in your training matrix will decrease the workload for database management on IT and management. Additionally, employees will be empowered to control their own quality management systems.
Training Management
Employees who manage their own training systems empower those in management positions to offer oversight and instruction. Rather than acting as monitoring agents to ensure that employees are meeting their work requirements, management is able to partner with employees to ensure that they are getting the best possible training on each product SOP.
Product Quality
A good quality management system ensures that product development will be done in a manner that is both trackable and repeatable. As SOPs are developed, great database management will include more than the names of the approximately 1500 SOPs an average pharmaceutical company manages or the names of the employees trained on them. It will track information about the procedures, the changes to their requirements, and employee interactions with them. All of this facilitates higher product quality.
Safety Systems
Finally, a good training matrix database facilitates safety systems as part of training and standard operations. Rather than safety systems being a separate part of a business's management, great software tracks involvement with various products, variables in safety procedures, and adverse events. With the ability to measure and understand each of these safety issues, employees and management are able to understand their own interactions with safety procedures and guarantee higher quality safety processes.
Great quality management systems integrate employee training, safety, and product development so that SOPs become a natural part of the work process. Rather than spending time managing artificial and labor intense spreadsheets, employees and management use intuitive interfaces to interact with all relevant information. This frees up time and energy to create high quality business systems and empowers employees' self-management.
Quality management systems do not just take into account your training matrix, but also interact with other aspects of your business automatically. From your ERP to your CRM, a good matrix management system integrates with your current management software. This integration reduces the possibilities of higher quality information management and automated software systems.